DIY projects
I've sat down to write posts about 15 times in the last two weeks and gotten lost in the interwebs. Or sat and daydreamed. I created an editorial calendar, with a month's worth of post topics, and still can't get it together. I just tripped over a box of legos walking out of my office*, looked over and saw the dirty dishes on the coffee table (which we're using as a dining table, plus the dishwasher and sink aren't attached properly) and suddenly it was really clear. Right. Yes. We're doing a renovation. Everything is everywhere. And I don't focus well in that environment.
This isn't a complaint. It's not an apology either. It's more of an oh right, yes. Duh. A "mini-reno" as I kept calling it is still a renovation. I chose this and I feel lucky to be able to make changes in a kitchen that really, is just fine.  But it's been a while since we did more than paint and I'd forgotten how everything spreads. And given how much holiday "clutter" makes me a little crazy, it should come as no surprise to anyone (particularly me) that not being able to walk through a room without tripping over something dramatically affects my productivity. Emm has been on a bit of a sensory overload bender this week (month) too, I imagine this has something to do with that too (dealing with that has also affected my productivity). This is the worst of it though. Today the cabinets are being anchored, tomorrow all the drawers will go back in. We'll reattach the counter (Finn removed it to straighten the island), sink and dishwasher and then remove them all again in two weeks so the counter and new sink can be installed.  And then over the next couple months we'll put up shelves, choose doors and paint and eventually it will be finished and pretty. And I'll conveniently forget just how much chaos even minor renovations create and start planning the next one. Maybe.
*for the record, tripping over legos is a fairly regular occurrence. It's all the other stuff accumulating and having no where else for the legos to go that's different.
This weekend I finally adjusted the curtains in Emm's room. She's had a large piece of paper taped over the window since we rearranged things, waiting for me to finally purchase grommets so I could adjust the fabric that had been curtains into simple blinds. This super easy project doesn't require any sewing and can be completed in well under an hour, no wonder it took me two months to get around to it.
Super Easy, No Sew Blinds
You'll need the following materials for this project.
fabric, cut to length/width

grommet kit (make sure you get the package with the setter included)
hammer
To begin, measure your window and determine your fabric amount and placement.  I wanted this blind to begin above the window trim and just past the sides, which was 68″ wide, I kept the length the width of the fabric, I think it's 45″. As the fabric left from her old curtains was 70″, I just went with that. I'd already made her original curtains years ago, so the iron on hem tape was applied. If your fabric is new you'll need to follow the directions and apply the iron on hem tape to all unfinished sides. I also tacked blackout fabric to the curtain fabric, as her window faces west and my children go to bed early. And occasionally sleep past 6:30 am.
After measuring the fabric, I decided to place the grommets every 10 inches. I laid it out next to a measuring tape, cut the holes and hammered in the grommets. Strike that, Finn hammered the grommets. These were the most ridiculously difficult grommets ever. I've  done quite a few projects that have called for grommets over the years and never had a problem. Perhaps I need to get to the gym more (ahem, or ever). Tip: make sure you leave enough fabric at the top so that the grommet won't rip through.
Once your grommets are in, get some help holding the fabric in place so you can mark the holes. Yes, yes, you could just use a ruler, but I find that sometimes I'm slightly off when I place the grommets (or things shift) and it's better for everyone's mental health to use the actual hole spacing as a guide.
Then it's simple to use a level to create a straight line for your marks. It's especially simple if you have Finn do it while you take photos. No, I don't know why his hand looks so strange.
Screw your cup hooks into the wall where you've marked. If you like,  use anchors and all that, but then this might take a little longer. And perhaps not fall out of the wall in a few months and then you'll have ruined your curtain hanging reputation.
Final step, which does require a little sewing. I lied, these are mostly no-sew curtains. Choose a selection of ribbon. I happened to have a multi-pack of ribbon in 4′ sections, which was the perfect length. Fold the ribbon in half and sew the center to the top of the curtain, so that one half hangs over each side. I used four ribbons for this 70″ curtain, adjust to suit your width. I let (made) Emmeth sew the ribbon on, it's important that she feels ownership of such projects. Plus, I wanted to sit and have a cup of tea.
Hang the grommets on the hooks and stand back to admire your finished curtains. Here they are closed. Not as cute, but very functional.

And here they are open. Easy to tie up each morning and the blackout lining works very well.
Happy Monday. Now go forth and make simple curtains. Then report back.
Kitchen dreaming. Mine is still quite a mess, although minor progress has been made. I managed to acquire and build the correct cabinets, Finn moved the water line for the fridge and most of the mess has found a home, even if it's temporary. I still have a dining table full of dishes and a microwave on the floor, but the countertops are mostly free of detritus. At least until we start the next bit. I'll be prepping a lot of meals this weekend as we get ready to live without a counter and possibly sink for a week or two. Here's the plan for the next bit.
The space feels so much bigger with the fridge in the nook. And the narrow pantry and new cabinet seem to hold most of what was in the giant pantry. It was a good excuse to go through and get rid of some things. We'll be ordering the countertop tomorrow, most likely Corian in Rain Cloud. The new sink came Wednesday, a more modern undermount that's lovely (and huge). I would like a new faucet, but we don't need one so I'll probably just live with what we have for a bit. Still haven't decided on doors and paint and such, I'm putting that off till the counters are in and I can get a better sense of how everything is starting to work together. And since the stairs are staying put, I'm still searching for some way to make them seem less odd as they dead-end into the stove. Any suggestions?
So much chaos coming my way. I suppose since I'm instigating it I can't even really complain. Not that that will stop me.
No pretty pictures today, just life in progress. Yesterday I decided to do a quick cabinet switch to kick of the kitchen renovations. Finn's on vacation next week and will be straightening out the island (it was knocked out of alignment by the electrician when we first did the kitchen). We'd decided to get rid of the giant pantry and move the fridge to that nook by the stairs, as it was feeling crowded where it was since we got the larger refrigerator. So I thought I'd just unload and move the pantries, move the fridge and run to Ikea to grab a couple new cabinets. Easy, right? A total pain, yes, but not exactly difficult. But then. Old house. Of course. This morning my house still looks like this.

Turns out the wall next to the stairs is at quite an angle, so despite my measuring pantry solution A didn't fit. Then the water line to the fridge refused to unscrew. And I forgot to buy one of the cabinets at Ikea (the one for where the fridge was). All fixable, as we've figured out solution B and the others are just a matter of running out. But as the small one is running a slight fever and I have to work this week, it may look like this for a few days. Oy. Even the seemingly simple things never go as planned. Wonder what we'll find when Finn tries to straighten the island next week?
Oh my. These little Easter egg terrariums by The House that Lars Built are just gorgeous. I'm not sure I have the crafty patience for them, but I really want to try.
So much better than the poorly dyed eggs we usually have. Head over to The House that Lars Built and check out her instructions.
Plotting out ideas for the kitchen mini-reno today. Which unfortunately won't happen as magically fast as the basement seating area. We're planning to replace the countertops, which are currently a dark granite-esque laminate, with a white, marble-esque Corian or Quartz. I know our family, we need maintenance-free countertops. New sink as well, as we'd like a undermount.
We're going to try painting our existing cabinet doors, although as they're from Ikea that might not work out. If it doesn't we'll replace them with new Ikea doors, this time choosing a solid wood option, and then painting those. Right now I'm leaning towards white and navy, with navy on the island and white on the wall.
I'd also like to replace our existing giant pantry with something more streamlined, perhaps using the corner unit billy bookcases. I have to figure out where to put the microwave though, so we'll see if that actually happens. I think that the white countertops and white cabinets will lighten the space considerably, making a darker island a nice counterpoint, but we'll see. I'll make the final decision once we have the countertops installed, which will likely be early summer.
Finally,I'd like to install some pendants over the island and some can lights throughout the space. I'm getting an estimate next week, we'll see what those costs look like. The electrical in this house is insane, it's clearly been home to DIY folks since it was built in 1923. There's a lot of crazy going on behind the walls.
Links to all items can be found here.
Linking up here.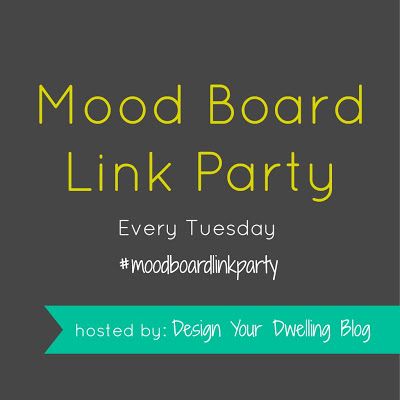 Ever since we painted the dining room and kitchen, I've been pondering a mini-reno. Changing door fronts and counters is mini, right? Our house is so wonky, what we think of as actual renovation involves ripping up floors and walls and we're not going that far. Yet (we're not, Finn, I promise). And as much as I'd like to switch out the lighting and fix the electrical, in our old house that's a whole other budget.
When I painted the dining room, on a whim I decided to paint the back of the island as well. We'd just put some plywood up there when we installed the kitchen years ago, always intending to do "something" to it. So why not. Because we both liked it a lot is why not. This is what happens when you try new things people, you start to get ideas.
It looks nice gray. It's not what I want it to end up as, matching the walls, but it's heading in the right direction. The counter, though, is too dark. The counter is laminate and the edges are chipped, replacing it has been on the agenda for a while. And while we're at it, we're thinking about tackling the cabinet doors. We mis-measured the counter when we installed it and it's slightly back of the sink doors. Which have warped and peeled from years of water dripping. So they need to be replaced. The drawer handles are also warped from years of a certain little boy using them as a ladder to the counter tops (the little girl never did this, btw).
So they need to be replaced. And so on. So we're looking at painting/replacing the cabinet doors and replacing the counter. Not too crazy. I'd like to fix this stair/stove/pantry weirdness too.
Moving the stairs isn't actually that tricky or expensive, but I need to think more about how we'd account for losing all that storage. The pantry is 48″ x 80″, it holds a lot. The space that would be left next to the stove after turning the stairs would only accommodate a 30″ cabinet. We could install some drawers to run under the stairs, but it would still require some minimizing and reconfiguring. Not impossible, but I'm not quite sure how to make it work yet.
As you can see in the collage above, I'm leaning towards a two-tone cabinet look with white counters. I think navy or a really, really dark gray on the island, with white on the others. We have Ikea cabinets, so we'll likely just switch in new doors. We're going to try painting the island doors, but if that doesn't work we'll switch those out too. I'm not holding my breath that painting over Ikea laminate will produce durable results. I need to decide on a door profile and a counter material. Something easy to maintain, as I have enough going on in my life without having to remember to seal the counter. Any recommendations? Anyone done white cabinets with kids, will I forever be wiping grubbiness off them?
Inspiration kitchen sources here. 1. 2. 3. 4. 
Have you seen Minted's new blog, Julep, with managing editor Liz Stanley of Say Yes to Hoboken? I like its focus on "design" crafts, they always seem to be imaginative yet simple. And we all know I need simplicity in my crafting attempts.  I especially like this origami heart wall, a perfect examples of design craft personalized.
Along with great crafts, they also showcase  party decor ideas, like the Valentine's above. What do you think of this new trend, businesses having inspiring blogs? This one definitely doesn't seem to be a constant advertisement for their wares.
That's right, I've labeled it. The tiny rustic industrial dining room. And it is finished. Or, you know, as finished as things get around here. Which means I'll have moved everything around by next week. This room has a much higher percentage of DIY projects in it than some other spaces. We made the chandelier, a roman shade and the table. No wonder it took us forever to finish (8 months).
You guys want pictures though. The obligatory before and after.

Different, yes? Tricky to photograph too. Some details.
I'm still playing with the art/planter/lamp/bar situation on the back wall. I think I like the planters. I also like this moose, sprayed very light pink (maybe because then I could have the kids play a game called plant, plant, moose). I think the room may be taking itself a little too seriously (and I may be over thinking it) and it could use some silly. And what's sillier than a pale pink papier-mache moose?
We went with plain wax for the table finish. The liming wax didn't make enough difference to deal with the smell and mess and I didn't like any of the stains. This wax smells lovely (seriously, like oranges) and gives it a rich sheen. Finn epoxied the major knots to keep them from filling with crumbs. It wipes down fairly easily and I already have to vacuum around there regularly, especially with the sofa, so adding vacuuming the table top to the repertoire isn't terribly taxing.
Dark and dramatic (and wouldn't the moose be fun instead of the lamp?). Having the dining room done is making the kitchen look a little shabby. Some plans are afoot for that space. You can see some of what we're thinking on Pinterest. Yes, I know I have a problem.
It happens to me every year. I forget about getting all the Valentine's cards for the kids school parties together. Somehow it's more of a project than any other holiday. This year I was surprised by the home school co-op having a Valentine's party too. With Emmeth in fifth grade I had thought I might get away with ignoring it entirely, but no such luck. Thank goodness for crafty people on the internet. Above are the ones we made, inspired by this project. His hand will hold a lollipop, which as you can see I still need to pick up (truthfully, I also still need to print them). Considering we have a Walgreens at the end of the street, that really shouldn't be so hard.
Here are some of the runners-up.
Felted pencil wraps, origami cards, celebration bags and those cute little hand cards. And just for fun, here's a fabulous project I should start working on now for next year. Little flip books from the Etsy blog by You are my fave.  Isn't it sweet?
What are you doing for Valentine's Day?